A Funny Thing Happened on the Way to the Forum
September 1, 3, 4, 5 & 6th of 2017 @ 8:00 p.m.
Directed by: Whitney Pintello
Cast:
Dave Leon, Jerry Rosas, Rod Pintello, Joline Masten, CJ Patereau, James Swan, Andrew Stebbins, Duane Holt, Ronnie Misra, Alex Cox, Jennifer Young, Sarah Smith, Taunya Barrera, Victoria Glenn-Perret, Matt Haluza, Vanessa Alvarez, Rob Masten, Lawrence-Michael Arias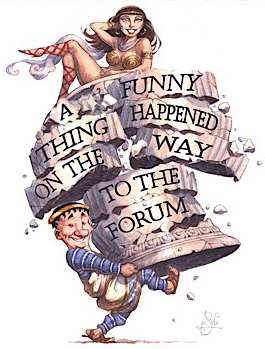 Our largest cast to date with our biggest musical yet!  Old-fashioned Broadway fun!